Sanya is a vibrant beauty whose soul exudes a depth uncommon in island destinations and a kindness of her people which resonates deeply in those who are fortunate enough to experience her.
As one might expect from an island around the tropics, there are many fantastic beaches that one can spend time at:Dodonhai, Xondonhai, and Sanya Bay are 3 beaches that are about 20 minutes from each other, yet each of these beaches are quite different, giving a great deal of variety to a visitor without making things complicated.
Dondonhai is a large beach near the Summer Mall and Pineapple Mall that is packed with eateries and watering holes and tourists from around the globe. There is a part of Dodonhai beach that is close to a park where one can sit down and enjoy the view if sand is not their thing. Another section of the beach is quite popular with the Westerners is by the water and it has many small eateries and watering where you can get a quick meal and a cold beer at a fair price, such as at Lilo's Surf Circus Beach Bar. Above these establishments are restaurants that serve full meals, namely Chinese food. Further along Dodonhai beach is a quieter area which is finding its own with inexpensive spots which sell fruit and Chinese food and is redefining itself with cozier lounge like establishments with fancy drinks such as the African Art Space.
Xondonhai is a quieter beach with outstanding views, where many photographers use as the backdrop for the many wedding photos that are taken there. Intercontinental is on one side and an area that many locals relax at is on the other side.
Sanya Bay offers a different type of sand, crowd, and a more raw beauty.
With all of this talk about beaches, it may give one the opinion that this is all that Sanya has to offer, but that is far from true. Sanya is encapsulated by inviting rich green hills which create such an incredible feeling to all who witness their majesty. These hill of trees, bushes, vines, and life, allow those who choose to, a wonderful opportunity to hike them and experience the beauty of Sanya from a different vantage point, adding to the beauty of this island. Although also astounding, it is not the hills or the monkeys, birds, or sensationally colored insects which abound that are the prize of this beautiful city of Sanya. No, none of these feats of nature even remotely compare to the kindness and community- the love of the people of Sanya.
One of my favorite experiences is waking early on a Saturday morning, leaving my incomparable neighborhood of ShanShuiGuoJi, walking across the street to the park, and enjoying all the life there. In the morning ever type of person seems to be in the park and it is such an amazing experience. There are people singing, playing instruments, walking dogs, running, in groups moving with sweeping movements in time, children playing, people exercising on the exercise machines, people strolling, couples walking, grandparents with grandchildren, women and men returning with clear plastic bags full of fresh steamed bread…it is a bastion of positive energy and love that is so peaceful. It is an experience that is so very dear to me and a sight to behold. With as many things going on as there are, one may imagine confusion and claustrophobia, however it is calm and the strength of the goodness of all the people in this park is felt with a force that perchance a downtrodden person was to come upon this scene, immediately their condition would transform to one of strength and hope.
The diversity of the Chinese people here and their caring curiosity or internal focus is magnificent. When paired with the stunning lakes, trees, bridges, bays, and buildings, one can only give thanks for the fact that they are in this moment in a park in Sanya, that has enough personality and positive vibes that weeks or months later, should it be so long between visits, that the happiness of the people, stays with you. The people of Sanya, tha grandma's and grandpas, the real estate agents, the fruit and vegetable market workers…the sum of the community of Sanya creates a place like no other.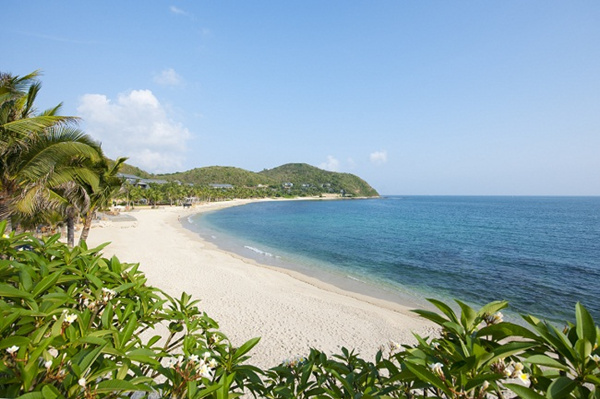 Sanya, China is a gem. It has everything one could ask for in a very small area, without feeling the least bit cramped. The nature, architecture, and people come to create a place that is quite unique. I must admit that I found out about Sanya, China by mistake, like so many other that I have talked to, but also like others, we have been captivated by her beauty and are making plans to stay longer than initially anticipated. We too are telling others to come! With a new visa policy that will make travel to this island paradise so much easier, I look forward to knowing than many other people will have the opportunity to visit this amazing island that I am quite proud to call my new home.
I have traveled to much of the Caribbean (Jamaica, Puerto Rico, the Dominican Republic, Aruba, St. Thomas, St. John, Barbados), to Mexico (Playa del Carmen, Isla Mujieres, Puerto Vallarta), and some stunning islands and areas in Europe (Canary Islands, Greece, Terceira in the Azores, Tuscany, Tel Aviv…) and I can say without a shadow of a doubt, Sanya, China stands tall with the best of them. We have everything here in one small lovely easily traveled place and the spirit of the people of Sanya is like nothing I have encountered before. There will be a day when the world knows of Sanya, China, like many of the places that I named above, but I am so very thankful to be here in Sanya now to feel the energy of this gentle little city, this rare beauty, that is getting ready to take the world by storm!(Raven Roytblat)
(责编:符小叶、蒋成柳)