To help the poor, motivate them first: poverty alleviation stories in south China's Hainan
In the early summer, rain showers come and go. Tall coconut trees and rubber trees line both sides of the roads. Although it is muggy and overcast, the air smells fresh. Here we are in tropical Hainan, the southernmost province of China.
Accelerating the construction of the Free Trade Zone (Port) and promoting the opening-up of China's service industry, Hainan is taking on the important mission of China's comprehensive deepening reform and opening-up with its characteristics and advantages. To accomplish this mission, leading all villages out of poverty is the bottom line.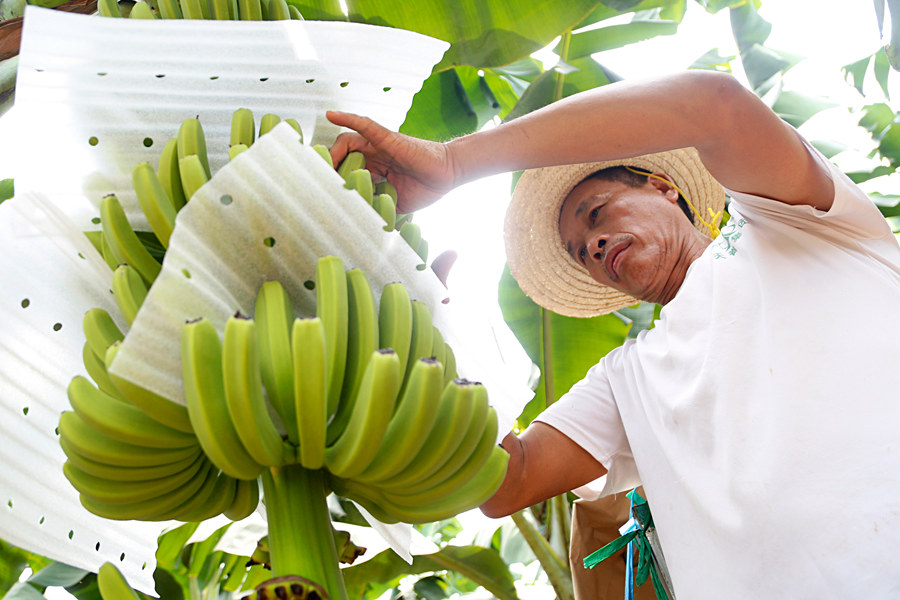 A local farmer picks bananas. (People's Daily Online/Ji Zihui)
According to data from the Hainan Provincial Office of Poverty Alleviation, since 2012, a total of 661,100 rural poor in Hainan have been lifted out of poverty, and the poverty rate has declined from 13.1 percent to just 0.77 percent.
The per capita disposable income of rural residents in poverty-stricken areas is expected to have reached 11,450 yuan last year, up 11 percent year-on-year, with a growth rate of 2.7 percent more than the provincial average.
People's Daily Online traveled to villages in Qiongzhong County, Baoting County, and Lingao County, Hainan Province, to find out what poverty alleviation projects have done so far and whether poor households in the area are actually better off.
Inspire ambition
Huang Haijun lives on the first floor of the village committee office. A bed with a mosquito net, desk and washbasin are slightly cramped in the less than 10 meter-squared room. "I get up at 7:15 am every day, have breakfast at 7:30 am, and work in the village at 8 am," said Huang Haijun, the Party Secretary of Lingmen Village, Wanling Town, Qiongzhong County, central Hainan Province.
"My job is to identify poor households and people in the local area and encourage them to raise sheep and chickens, to explain the government's poverty alleviation to them, help train them in breeding techniques, and identify the house-to-house needs. To put it bluntly, everything in this village is related to me," Huang explained.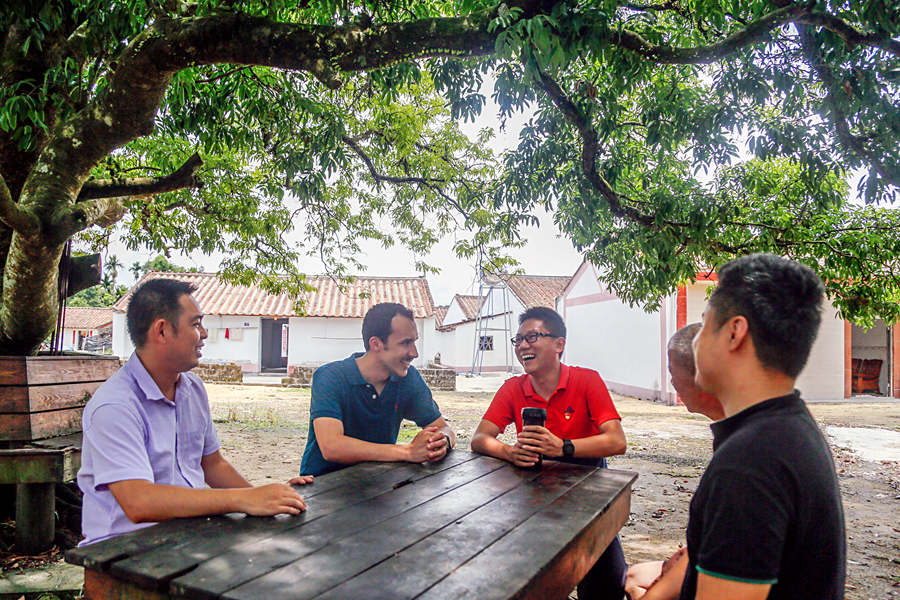 Huang Haijun (3rd L), the Party Secretary of Lingmen Village, Wanling Town, Qiongzhong County, central Hainan Province, chats with farmers and the reporter from People's Daily Online (2nd L). (People's Daily Online/Ji Zihui)
The first time Huang arrived in the village in 2015, he found that quite a few poor households in the village had issues with laziness and gambling. Huang was determined to inspire the ambitions of low-income families.
"They should realize that being poor is not a glorious thing, and the country's policy to help the poor doesn't come for free.
"With the funds and policies from the government, I can help locals to get the most out of their loans. However, the most important thing is to stimulate motivation. Only when they put in their own costs, will they cherish anything. To help the poor, you have to motivate them first."
Huang mentioned Wang Chengan, a then poverty-stricken farmer he helped. "Years ago, Uncle Chengan's house was almost empty. Every time I came to him, he was drinking in his house. His dogs used to bark at me, but now the dog is very familiar with me. Chengan's family has a stable income, and he also pays more attention to his image."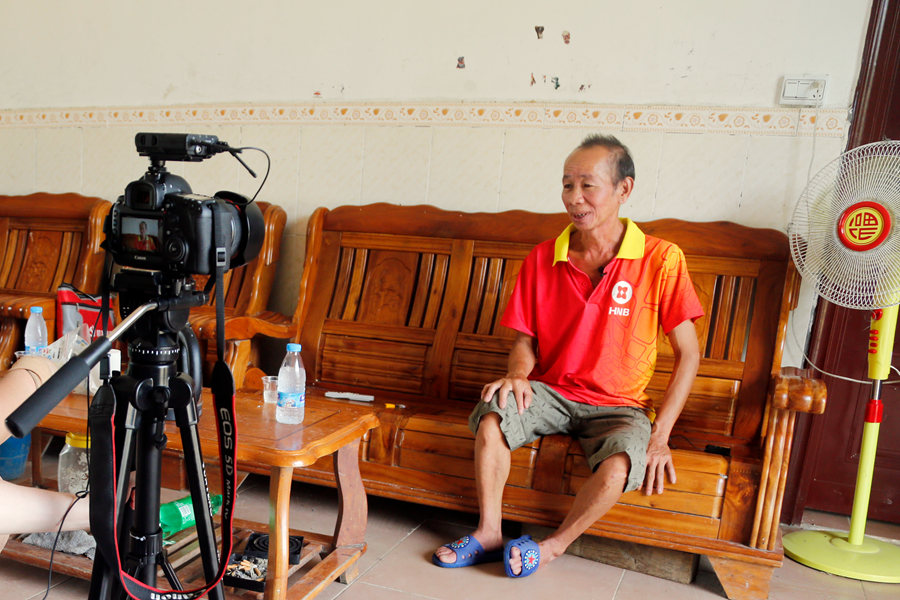 Wang Chengan, a farmer who escaped poverty, is interviewed by People's Daily Online. (People's Daily Online/Ji Zihui)
When we visited Wang Chengan, he was watching TV. He made us some tea. He explained that even though he didn't know anything about sheep raising before, he had already learned how to care for them and give his livestock injections.
To help the poor, Huang Haijin cannot see his own family every day. Before we left Lingmen Village, we asked him whether it was worth it. Huang was silent for a few seconds and then said, "I don't want others to be sympathetic to me, because it's all worth it. When I was a child, my education and learned morals told me to put people first. My conscience drives me to help them. Poor households live hard, but our governments have policies and resources, so I can be the bridge to help with just a little effort. When I see these people smile sincerely, I feel that everything is worth it."
Huang Haijun is only one of the over 50,000 party secretaries and local officials in Hainan who have been working hard on the frontline to fight poverty, living and eating with the poor. Thanks to their tireless work, in 2018, Hainan completed its target of bringing 86,000 people, 81 poor villages, and two poverty-stricken counties out of poverty.
(责编:卢少雄、蒋成柳)